Formed Parts or Extrusions
Modular Hard Dies aren't limited to punching and notching only flat blanks – you can also use them to simultaneously punch at different elevations within formed parts or extrusions, simply by specifying different punch lengths and bushing heights to suit the job accordingly.
Punching of formed parts or extrusions with modular dies presents an excellent alternative to what would otherwise be rather complex and costly custom tooling. Since each subject feature is tooled independently of others within the same subject, punching on multiple elevations is easy to accommodate. There are limits of course, but most punching of flat surfaces at different elevations can be accommodated with modular dies. Extrusions represent the most common type of multi-level punching application, and these are typically done in press brakes. Whistler systems allow formed stampings and extrusions to be punched with the same ease and convenience typically associated with punching and notching of flat blanks.
Structural angles, hat sections, delicate aluminum extrusions, formed boxes, angular-formed legs – holes at different elevations, even dual materials for guaranteed perfect hole alignment  – all these are candidates for punching with Whistler tooling. Our systems do have limitations, of course, and some systems are more limited than others but with Whistler modular dies, solutions are available for these and other types of complex tooling applications. When choosing a solution, the best solution may be one that meets the more general, longer-term needs of your particular pressroom environment.
Before selecting a tooling system, you first need to identify which press to use for the job. This process usually requires a thorough review of the potential work to be handled by both the tooling system and the press. Important press specifications to consider, in addition to its make and model number, include bed and ram areas, tonnage capacity, shut height (stroke down, adjustment up), stroke length, the amount of adjustment, and whether the press is a mechanical type, or hydraulic, or pneumatic. This information will be used to determine the correct size and fit of a Master Die Set and whether any additional features such as stop blocks or bolster plates may be necessary. Detailed press data will also be a factor in determining the number of hits necessary to complete your stamping.
Straight side, gap frame and OBI type presses are not the only possible choices. Due to the typically "in-line" nature of holes to be punched in extrusions, many users have selected hydraulic or mechanical press brakes for use with Modular dies. Most brakes can be fitted with rigid support brackets to increase their front-to-back size capacities if necessary, but to protect against potential damage to both the brake and the tooling, consideration must be given to centralizing tonnage loads on a per job basis. Support brackets are often available in different sizes from the press manufacturer and they can also be supplied by Whistler.
During the press selection process for Magna Die ® and / or Adjustable systems, you may wish to consider the idea of getting maximum flexibility and best capacity utilization, by specifying a Master Die Set for use in more than one press.
Here we illustrate three (3) basic formed subjects to show how modular tooling can be adapted for use on multiple elevations.
PART A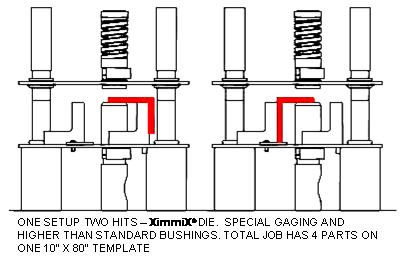 Punching both 3/16″ and 1/4″ angles with varying leg lengths. A common hole pattern on both legs is done with the part needing only a roll to the back for the second hi
PART B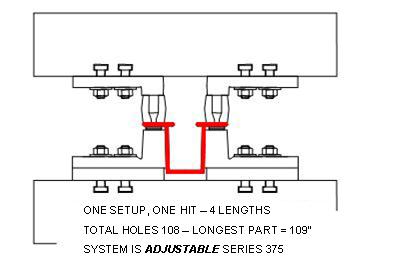 Hat shaped extrusion with 108 holes and various part lengths up to 109″ / 2768.6 mm is pierced in this master set. Since all rails and panels run through this single master, hole alignment is extremely accurate.
PART C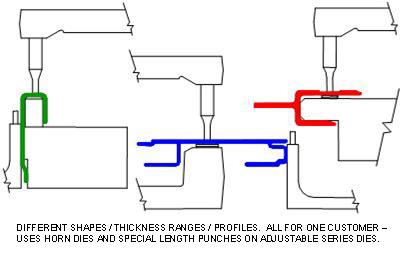 Customs horn dies were needed to suit these various extrusions. Varying punch and die elevations and some special gauging allowed this manufacturer to accurately control hole centers for ease of following assembly.
SOLUTIONS:
For FORMED PARTS, Whistler systems offer these basic features and advantages.
Because they offer the ultimate in tooling flexibility, Adjustable dies are the usual choice for punching extruded sections and formed stampings.
By adjusting punch and die bushing elevations, making some occasional modifications to tool holders and providing special gauging as needed, modular hard dies can meet the demands of manufacturers that produce more elaborate and decorative extrusion products.
With Adjustable dies, it's easy to overhang formed sections from the die set and adjust the tools to suit the hole requirements of nearly any job.
Depending on the variance in formed elevations, Magna Die ® systems can also be used, with superb accuracy and excellent repeatability obtained from the precision-machined templates.
High accuracy, repeatability and long tool life can be easily achieved with modular hard dies. While there are some restrictions and as long as your press can accommodate the additional shut height requirement, Whistler dies can usually be adjusted to suit your application