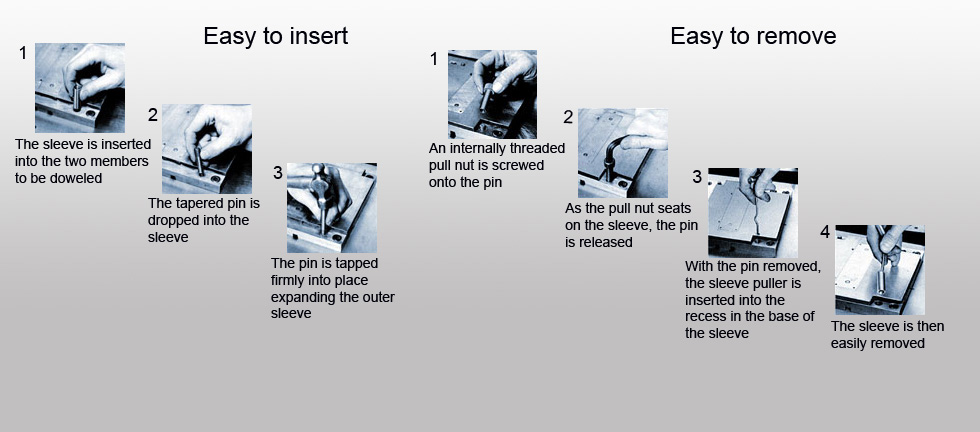 Expanding Dowels
Reusable METALIGNER dowels combine a hardened and threaded tapered pin surrounded by a vertically-slit tapered ID sleeve. The pin is inserted and tapped into the sleeve, locking the tapers to provide uniform expansion throughout the entire sleeve and forcing mating parts into exact alignment. METALIGNER dowels are top-removable – no knockout hole needed.
How Metaligner ® works.
If you have an application requiring precision alignment of parts at assembly, reassembly or for field service, the Whistler Metaligner can help you do it faster and easier with outstanding accuracy.
The Metaligner ® is a reusable, expanding dowel pin, designed to allow precise alignment of two or more members that would normally be held in place by conventional dowels. Unlike conventional dowels, the Metaligner ® can be easily inserted and removed where the sections to be doweled have a blind hole. It never has to be drilled out.
Machine and tool sections can be removed and replaced repeatedly with accurate alignment every time. Plus, Metaligner ® is reusable and can properly align and dowel holes as much as .001″ (.025mm) oversize.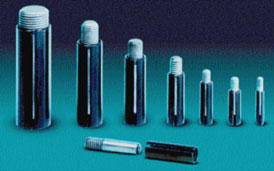 Metaligner Family The advantages of Metaligner ® are being proven by builders of mechanical equipment around the world in the construction of machine tools, pumps, disc drives and precise assemblies of all kinds.
Metaligner ® benefits.
Requires less precision in a hole size since expansion allows use over approximately a .001″ (.025mm) range.
Can be used in blind holes and does not require a through-drilled knockout hole for removal.
Naturally vents air so that "flatting" is not required.
Does not damage a hole through use, so it can be removed and reused in the same hole without re-machining.
Faster to use in an assembly and can be removed very easily and quickly for dis-assembly.
Can provide repositioning of mating sections with accuracies better than .0001″ (.0025mm) for in-field service or repair.
Metaligner Sizes
Metaligners are made in a range of inch and metric sizes, offering flexibility for a wide variety of applications.
INCH SIZES
(sold in packs of 6 pins with sleeve)

CAT. NO.

A

B

C

EX-250

1/4

1

1-7/32

EX-375-1

3/8

1

1-1/4

EX-375

3/8

1-1/4

1-1/2

EX-500

1/2

1-1/2

1-7/8

EX-625

5/8

2

2-3/8

EX-750

3/4

2-1/2

3

EX-1000

1

3

3-1/2

 

METRIC SIZES (mm)
 

CAT. NO.

A

B

C

EX-6

6

26

32

EX-8

8

26

32

EX-10

10

32

38

EX-12

12

38

48

EX-16

16

51

61

EX-20

20

64

74

EX-25

25

76

89
 Accessories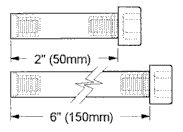 Pull nuts, sleeve pullers and hex wrenches are available for each Metaligner Size
PULL NUTS 2″/50mm
(One is required for removal)

CAT. NO.
PN-250
PN-375
PN-500
PN-625
PN-750
PN-8
PN-1000
INCH SIZE
EX-250
EX-375
EX-500
EX-625
EX-750
———
EX-1000
METRIC SIZE(mm)
EX-6
EX-10
EX-12
EX-16
EX-20
EX-8
EX-25
PULL NUTS 6″/150mm

CAT. NO.
PN-250
PN-375
PN-500
PN-625
PN-750
PN-8
PN-1000
INCH SIZE
EX-250
EX-375
EX-500
EX-625
EX-750
———
EX-1000
METRIC SIZE(mm)
EX-6
EX-10
EX-12
EX-16
EX-20
EX-8
EX-25
SLEEVE PULLER
(One is required for removal)
FOR USE WITH METALIGNER

CAT. NO.
TSP-250
TSP-375
TSP-500
INCH SIZE
EX-250
EX-375
EX-500 through EX-1000
METRIC SIZE(mm)
EX-6mm EX-8mm
EX-10mm
EX-12mm through EX-25mm
SLEEVE PULLER EXTENSIONS
(For extra deep holes)

CAT. NO
TSPE-375
TSPE-500
INCH SIZE
EX-375
EX-500 through EX-1000
METRIC SIZE(mm)
EX-375
EX-12 through EX-25
HEX KEY WRENCHES

CAT. NO
HK-156
HK-187
HK-312
HK-375
HK-750
INCH SIZE
EX-250
EX-375
EX-500
EX-625 EX-750
EX-1000
METRIC SIZE(mm)
EX-6mm
EX-8mm EX-10mm
EX-12
EX-16mm EX-20mm
EX-25